introduction to tummy time
Madison Demonstrates at 6 weeks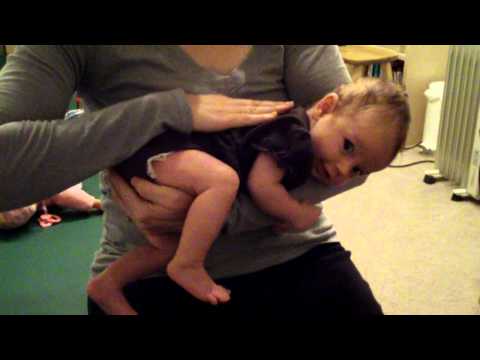 If you have ever watched a football game, you can recall the running back running down the field while holding the football. Holding the football with both hands and forearms, he prevents the ball from dropping or being stolen.  The football is more secure in his possession if much of his arms are in contact with and it is held close to his body.  Thus, we have the name of this technique for carrying baby:  "the football carry."  This position keeps baby secure as she is supported by most of your lower arm bone, offers her a new perspective on the world, and gives her an introduction to tummy time.
TUMMY TIME TECHNIQUE

The important details for this position are:
1.  Support baby from head to tail (pelvis). Notice the palm of the hand under her pelvis.  The palm of the hand offers more support than the fingertips, so it is important to support the pelvis, one of the heaviest parts of the body, with the center of your palm.  Her head is resting on your arm near the elbow.  She will lift it from time to time, but your arm is there for her when when needs a rest.  Like the football, the length of baby is in contact with the forearm.  Her tummy receives the pressure of contact with your arm, replicating the sensation of laying on the floor on her tummy.
2.  Tap her back and talk to her. Your touch and the sound of your voice give her a sense of security in this new position.  Be aware that baby is in a brand new orientation to her world.  Prior to this position, she has spent most of her time on her back looking up at the ceiling or at your face as you lean over her.  Because this is brand new, she may be a bit insecure.  Providing her with security, she enjoys the novelty of this relationship to her environment.
3.  Use your body as a back wall of support.  As you put baby in this position, gently and slowly, lean her against your body to keep her secure and allow you greater ease in transitioning her to her tummy.  As you carry her, her side can be up against your body while you both learn this new position.
4.  Change directions.  Sometimes hold her with her head close to your right elbow, and other times with her head close to your left elbow.  This keeps her muscles balanced since she will sometimes have her head turned to the right and other times to the left.
Babies enjoy this position because it gives them so many new things to observe!  Parents appreciate this position because baby feels secure and more easily adapts to tummy time.  The football carry is a winner!