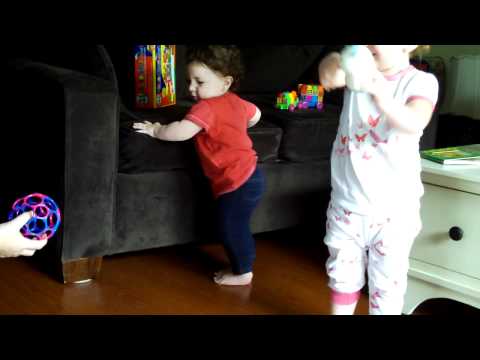 BABY MILESTONE CRUISING 
Parents celebrate the motor milestone of cruising as it indicates baby will be walking very soon.  Cruising is the motor skill of standing up and taking small steps sideways while holding onto a stable object such as a coffee table.  It is a very important preparation for walking because it it the first skill where baby is fully weight bearing on her feet.  By 10 months or so, her bones are strong enough to support her weight.  Her muscles have developed quite a bit of strength from crawling.  Over the course of several days of pulling herself up to standing, she has developed her balance well enough to cruise after a toy.  She takes a couple of small steps, very slowly, in a sideways direction.
BALANCE, COORDINATION, STRENGTH, & WEIGHT SHIFT
She is learning to shift her weight, which is no small task.  It requires balance, coordination, and strength. She moves one foot to the side by adjusting her weight onto the stable foot, thus freeing the other foot so she can move it to the side.  Once the moving foot touches the floor she can put her weight on that foot.  Cruising also develops the muscles and arches of the foot which will be necessary for walking without holding on.
DOMINANT SIDE
Parents are often concerned when baby shows a preference for one direction over the other.  This is not something to be concerned about, this is actually an advantage.  Babies will start to make a preference early on.  Most of us have a dominant hand, leg, and eye.  Even professional ballet dancers will tell you they can do something better on one side, for example with their right leg.  So, parents need to understand that it is a normal part of motor development to show a preference to one side.  By setting up the furniture in a safe and attractive manner for the baby to practice cruising, parents encourage the exploration in which the dominant side may emerge.  Furniture and toys evoke the curiosity that motivates the cruising and facilitate muscle and balance development.
BABY CRUISING FURNITURE TIPS
Baby proof your table corners
Place furniture pieces close enough together so she can cruise from one piece to the next
Choose hard materials such as wood rather than soft sofa cushions, as this provides stability for baby
Plant toys that are colorful, lightweight, and non-breakable on the furniture
Toys should be spaced so some are near and some far