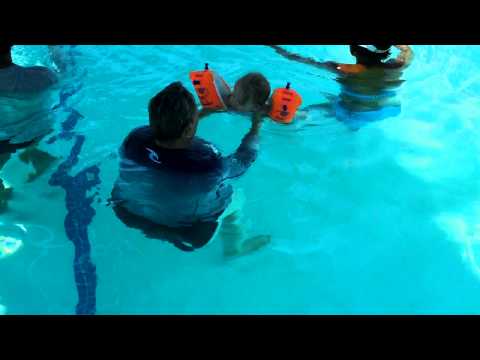 A SWIM LESSON FOR MADISON
Autumn is here, the kids have returned to school, and yet the Southen California warm sun continues to shine.  What better time for baby swim lessons?  The weather is beautiful and the pools are not as crowded!  In the above video, Madison's teacher introduces her to the floaties.  With the floaties on she practices kicking, one of the first motor skills for swimming.   Very closely watch her legs at the very beginning of the video.  This is Madison's fifth lesson, and she is not quite nine months old.  The first few lessons focus on getting her comfortable in the water and introducing the kicking and paddling.  We will follow her progress in future posts.
BABY SWIM LESSONS, LOS ANGELES
One can find all of the important elements of a swim school, as we discussed in our post "Can Babies Swim," at the Los Angeles area Beverlywood Swim School:
individual instruction
warm water (about 90 degrees)
lots of toys
happy babies and children
The above video was filmed at the Beverlywood , offering adult, children, and infant swim lessons.  In our post about baby swim lessons, we discussed the technique of Jen Loven.  Jen was famous for her infant swim technique, although her school closed.  The Beverlywood Swim School was started by Crystal Scarborough, Jen Loven's sister.  Today their instruction continues the successful technique developed by Crystal and Jen.
Some of my adult fitness clients took their children to swim lessons at Beverlywood as much as 20 years ago.  I have been told, "It's the ONLY place in LA to learn to swim!" An afternoon at the pool is absolutely wonderful baby play.   There is so much for her to see and to explore.  One observation I have made is that upon arrival at the school, Madison gives very big smiles!  She curiously watches the swimmers.   After swimming, she is very energized,  happy and, of course, hungry!  P.S.  Don't forget to pack some baby food!
NOTE:  Stellar Caterpillar is not paid in any way to promote Beverlywood Swim School.  We simply want to share outstanding local infant resources with Los Angeles readers.