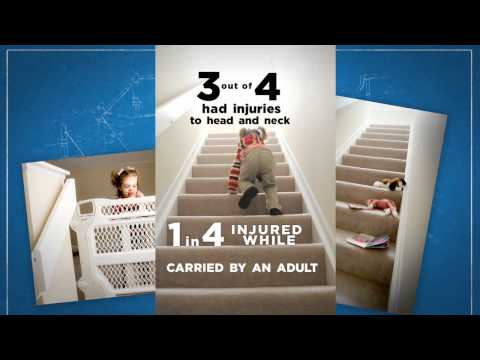 "Take steps to make stairs safer for kids," Michelle Healy, USA Today, 3/12/12.
When your Stellar Caterpillar is rolling and crawling confidently, curiosity lures him to potentially dangerous situations.  One of the most common hazards in the home is the staircase.  Unlike the closely supervised stair climbing that baby learns in a Stellar Caterpillar lesson, these accidents can occur in a moment when mommy is distracted.
Taking the time to very thoroughly baby proof one's home is extremely important, and this includes the installation of safety gates at the top and bottom of stairs.  However, as the above TV segment from Nationwide Children's youtube channel shows, accidents also happen on the stairs while carrying baby on the stairs.  In fact, the recently published USA Today article on this topic points out that 1 in 4 accidents with babies under one year of age happen while being carried by an adult on the stairs.  A confident and mobile baby needs the protection of both baby proofing and careful parenting.
7 TIPS FOR BABY STAIR SAFETY
Keep stairs free of clutter
Repair damages in construction
Install and use handrails
Place safety gates at both the top and the bottom of stairs
Avoid carrying other items while carrying baby
Wear shoes with good traction to avoid slipping
Teach others to avoid distracting you while carrying baby on stairs