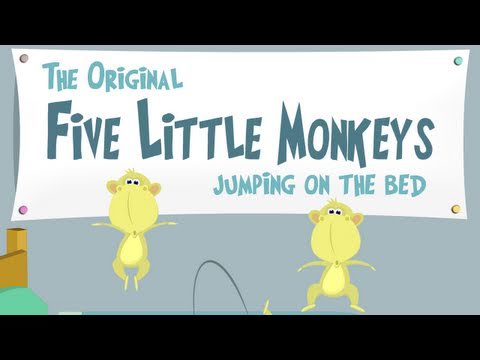 A confident, coordinated, and physically active baby often is tempted later in toddlerhood to climb furniture and jump on the bed.  A wise grandmother offered the following parenting tip, "Teach baby the song, '5 Little Monkeys Jumping on the Bed'."  She explained that later when baby is climbing the furniture or attempting to jump on the bed, mother sings this song as you take her away from the furniture.  As she grows older, singing the song may be enough to get her to stop jumping on the bed.  My friend, the grandmother, said she would sing one or two verses and then her grandchild would stop.
Add this board book to baby's first library and sing the song when you read it to her.  It is also a counting book for learning to count to 5.  Although there are many tunes for the lyrics, we posted above "5 Little Monkeys" from DavidOsaka's youtube channel.
Five Little Monkeys:  retold and illustrated by Eileen Christelow.  (New York:  Clarion Books, 1989).