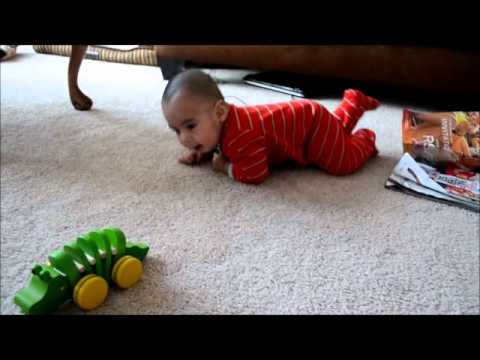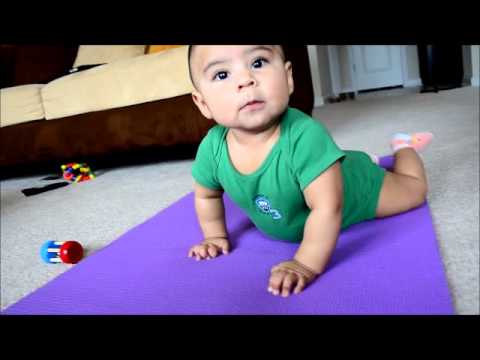 Above, we see the first bit of Sayid's progress in learning to crawl.  After watching the video his mother submitted in Part 1, Donna noticed that Sayid likes to keep his fingers curled under most of the time.  This makes it a bit difficult to get into the hands and knees positon for crawling and even more difficult for shifting the weight in the movement of crawling.  While Sayid's mother set up her technology for the virtual instruction (a simple process), Donna sent her an email with some instructions for improving the use of his fingers.  Watch the above videos from KatMur's channel to see the before (top video) and after (bottom video).  You will see that in the bottom video his fingers are much more open, especially on the left hand, and he is now lifting his pelvis up into the air much easier to attain the crawling position.
STEP 1:  SUBMIT A VIDEO/WRITTEN description
The first step in teaching babies a motor skill through virtual instruction is the same for most mothers who contact me.  I like to receive a video or written description of what movements the baby is doing and what the mother is interested in teaching baby.  If the mother does not have the technology to send video, a written description works just fine.  In part 1 of this series, we saw the video submitted by Sayid's mother and learned what motor skills he has developed very well.
STEP 2:  ANALYSIS OF VIDEO/WRITTEN DESCRIPTION
Donna views the video and notices what the baby could learn through virtual instruction.  She observes what the baby is doing very well and what the next mini-milestones are on the road to the major milestone.  These are the movements that Donna will guide through the virtual lesson.
STEP 3:  TECHNOLOGY SET-UP
Google + is the preferred medium for the virtual instruction.  It is very simple to set up if you have a gmail account.  As the mother sets up the technology to have the session over the internet with Donna, she may receive an intructional suggestion from Donna with relevant links to stellarcaterpillar.com.  This gives the mother something to begin teaching baby immediately.
STEP 4:  SCHEDULE THE LESSON AND CONNECT
After setting up the technology, it is best to test it with a friend.  Then schedule the lesson with Donna and connect on the given day and time.  Lessons are usually about 20-30 minutes long.  Practice the motor skill tips daily with baby, usually twice a day.  We recommend about three to five lessons to achieve a goal.
Did you like this Post?
To see lesson number three, read Virtual Lessons in the Motor Skill of Crawling, part 3.