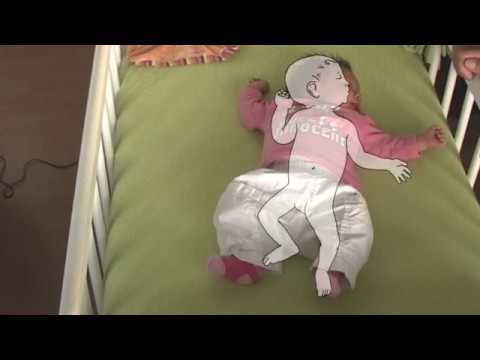 BABY MILESTONES AND THE "FENCING REFLEX" 
One of the most visible infant reflexes is the Asymmetric Tonic Neck Reflex (ATNR). Usually visible in up to six month old babies, this reflex is often called the "fencing reflex" because the movements of the arms reflect the stance of someone engaged in the sport of fencing.  Although there is also some movement in baby's legs with this reflex, the action is more evident in the arms and head.  Some researchers suggest that one of the purposes of certain infant reflexes is the preparation for motor skill activities while others seem to be survival oriented.  What are the baby milestones that the ATNR Reflex is facilitating?
 ATNR DEVELOPS HAND-EYE COORDINATION
Watch the above video from betapicts' youtube channel to see the coordination of this baby reflex in slow motion through an illustration of a baby and then on an actual baby.  The reflex is most easily observed by watching the movement of the head and arms.  With the ATNR reflex present, baby's arm straightens (extends) on the side at which her head is pointing while the opposite arm bends (flexes).  Since reflexes are involuntary coordinations or movements, baby has no control over this movement.  Everytime she turns her head to the right the right arm straightens and the left arm bends.  This baby reflex will usually disappear from your observant eye by around four to six months of age.  Some suggest this reflex may stimulate eye-hand coordination because one hand moves directly in front of the face.
ATNR IN UTERO DEVELOPS BALANCE
Child Development researcher and author Sally Goddard discusses the presence of the ATNR reflex while baby is in the womb.  In her book "Reflexes, Learning, and Behavior:  A Window Into The Child's Mind,"  Goddard explains that this reflex is responsible for much of baby's movement in utero which facilitates the motor skill of balance as well as important developmental neural connections.
ATNR AND THE MOTOR SKILL OF GRASPING AND REACHING
The ATNR-like movements visible during the pregnancy ultrasound exams are the beginnings of the neural connections that evolve into the motor skill of grasping and reaching.  The movements of the tiny arms bending and straightening as the head turns from side to side are rehearsing one of the first motor skills baby learns.  According to neurobiologist Lise Eliot, arm movements appear at about seven weeks post conception.  Although there is much to develop with the motor skill of grasping and reaching during the first few months after birth, the early neural connections for this skill trace back to the beginnings of the ATNR reflex in the womb.