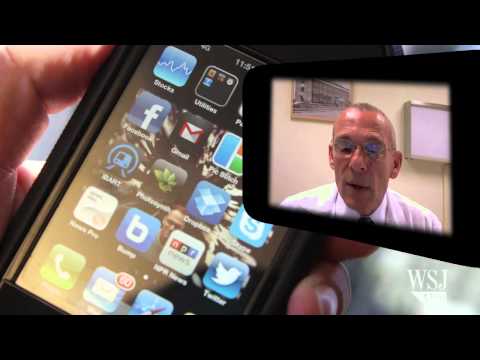 DANGERS OF TEXTING
A recent Wall Street Journal article by Ben Worthen explored the potential dangers of texting while parenting.  Watch the above video from WSJDigitalNetwork's youtube channel for a summary of the article.  Emergency room doctors suspect that the recent rise in children's injuries, especially in children under the age of 5, may be due to parents engaged with their smartphones while they were supposed to be watching their child.  "Non-fatal injuries to children under age five rose 12% between 2007 and 2010, after falling for much of the prior decade," writes Worthen.  He cites the Centers for Disease Control and Prevention as the source for the data, and states that they based the statistic on emergency-room records.
DATA SHOWS INCREASE IN TEXTING
According to the Centers for Disease Control and Prevention, texting is the dominant use of a mobile phone.  The percentage of adults engaged with a smart phone in the activity of texting is approximately 65% of smart phone usage, while email is 47%, talking 45%, and listening to music is 29%.  This data is cited from a Consumer Electronics Products and Usage Report from 2010.  It clearly reveals that people are engaging with their phones to text more that any other e-activity.
BABY SAFETY
To keep baby safe, it is important to keep your eyes on her.  This is important especially once she masters her motor milestones of crawling and walking.  The problem with texting while parenting is that you need your eyes and your hands to text, so that means you must direct your focus away from your baby to text.  And, as the WSJ article points out, once we respond to a text we might check email, facebook, or search for something on the net while looking down at our phone.  We know that when baby masters her motor skills she can move very fast.  In one second she can climb the couch or pull something heavy off a shelf.   Practice safety at home, at the pool, and at the park by asking people who may need to contact you to phone only so you can keep your eyes on baby.  When you can, turn off your phone.  This may be especially important at places such as the park where there are many new and unexpected situations that may present danger if baby is not closely supervised.
PARENTING TIPS
Turn off your phone when possible (at parks, pools, etc.).
Ask important contacts to call you rather than text.
Be aware of your eyes.  Keep them focused on baby.
Baby proof your home to help prevent accidents.