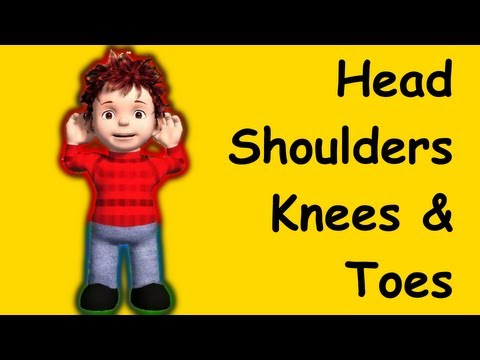 HEAD, SHOULDERS, KNEES AND TOES LYRICS
One of our favorite songs for babies is "Head, Shoulders, Knees and Toes."  This is a fun song to introduce to babies around the age of 10 months or older.  Toddlers enjoy this song as well.  Babies learn the names of these body parts as you sing the song and gently place your hands on baby as you sing.  Watch the above video from Muffin Song's youtube channel.  It is an easy song to learn because the lyrics are very simple, just the names of the body parts:
Head, Shoulders, Knees and Toes
Knees and Toes
Head, Shoulders, Knees, and Toes
Knees and Toes
Eyes and Ears and Mouth and Nose,
Head, Shoulders, Knees and Toes
Knees and Toes !
A SONG FOR BABY PLAY
Sing this song for a fun developmental activity for baby.  Touch their hair with both palms of your hands as you sing "Head," touch both of their shoulders as you sing "Shoulders," squeeze both of their knees as you sing 'Knees," and tickle their toes as you sing "Toes."  Take the tips of your fingers and touch near their eyebrows as you sing "Eyes," touch their ears on the word "Ears," take one finger and touch the lips on "Mouth," and then touch the nose on "Nose."  When you touch a part of their body at the same time that you sing the name of it, they pay attention to the place and learn the word associated with the body part.
VARIATIONS OF BABY PLAY
Once baby is familiar with the song, introduce some variations to continue to engage baby's curiosity and provide learning opportunities.  One way to change the song a bit is to vary the tempo, or speed.  At first, sing the song fairly slowly so they can follow what you are doing.  Eventually play with the tempo because they will enjoy the song at a fast tempo as well.  Next, after more practice, take a doll and place it in front of baby and place baby's hands on the doll's "Head, Shoulders, Knees, and Toes," as you sing.  This reinforces the learning of the body parts.  Each small change you make in how you play with the song will engage baby's attention more deeply and facilitate the learning.  Songs also help cheer up baby when she is not feeling well.  Recently one of our stellar caterpillars was not feeling well due to a virus.  Her mother told me that the only thing that seemed to help during that week was "Head, Shoulders, Knees, and Toes."