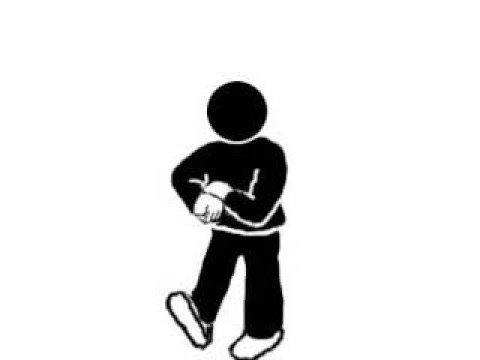 BABY PLAY FOR HANDS AND ARMS
Baby songs often involve hand gestures, which babies love!  The song "Wind The Bobbin Up" is a fantastic rhyme to sing to baby while teaching her to bring her hands in front of her.  If your baby makes the airplane movement in tummy time (where she puts her arms straight out to the side and lifts them off of the ground), try this game with her.  You might try playing this game with baby when she is in the high chair.  The first few lines of the song are the most important, so you can want to just focus on those lines to begin.  The above video from Daviddesu's youtube channel shows the hand and arm movements very clearly.  As baby plays with her hands and arms in front of her she will find it easier to bring them in front of her when she is in tummy time.  The pattern of bringing the hands toward each other will be more familiar to her as she plays this game.  For older babies and toddlers, this is a great rhyme for them to learn to do some of the gestures on their own as they join in to the song.  They can follow your lead.
WIND THE BOBBIN UP:  LYRICS
According to wikipedia, this rhyme can be traced back to the 1890′s in Yorkshire.  Here are the lyrics for you to learn:
Wind the bobbin up, Wind the bobbin up,
Pull, pull, clap, clap, clap.
Wind it back again, Wind it back again,
Pull, pull, clap, clap, clap.
Point to the ceiling, Point to the floor,
Point to the window, Point to the door.
Clap your hands together, 1, 2, 3,
Do a roly-poly, put your hands upon your knee.