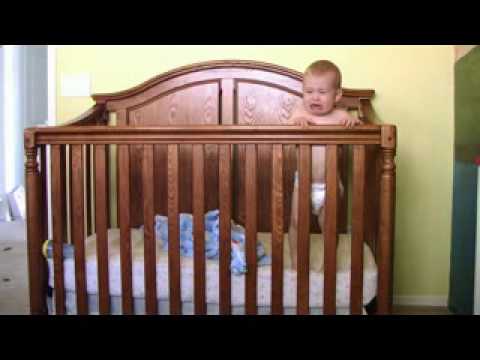 As baby masters the motor milestones and climbs with confidence, it is important for parents to keep in mind several safety concerns.  In fact, baby enjoys climbing.  Baby sees a challenge and wonders, "Can I do that," or "Can I sit up there," or "Can I get to that toy?"  This is why they often start climbing the furniture in the house.  They have no understanding that it is not designed for them to climb on or over.  Recently, we discussed singing  "Five Little Monkeys Jumping on the Bed, " to discourage them from climbing furniture.
Another safety concern is, 'Will my baby figure out how to climb out of his crib?"  Watch the video above from chambonito's youtube channel to see Sammy demonstrate one way of how baby climbs out of the crib.  Please note that serious accidents can happen when babies attempt this.  The baby boy in the above video is extremely careful as he climbs out, which demonstrates to parents how it is possible to achieve this feat.  This boy's parents woke up one morning and found him outside of his crib.  They grabbed their video camera and put him back in the crib to learn how it happened.  Next, a wise decision was made to purchase a new crib for safety.  It probably was much taller so he could not get his leg up on the bar.  Although this baby is 18 months old, I have seen videos with babies as young as 13 months old achieving the same goal.
Please remember to look at the height of the crib bars relative to the top of baby's head.  If the baby is too tall, he can put his foot up on the top bar and begin his climb.  Another important thing to keep in mind is that sometimes babies learn to climb out of their playpens too.