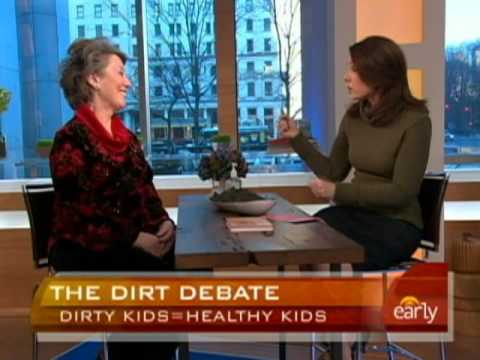 How to keep baby healthy is a question at the front of every parent's mind.  Thanks to Mary Ruebush, PhD., and her book Why Dirt is Good: 5 Ways to Make Germs Your Friends, we can learn how to build a strong immune system from infancy on.  Yet, her suggestions might surprise today's hand-sanitizer obsessed society.  "What we need today isn't less dirt, it's more," is Ruebush's premise from the first paragraph onward.  Ruebush teaches microbiology and immunology for Kaplan Medical, and has taught immunology, infectious disease, and pathology in medical school settings for over 30 years.  Published in scholarly journals, her topics of research include viruses, parasites, and bacteria.  Ruebush also is a mother of two, so her information is solidly backed by scientific research as well as the personal experience of raising two children.  She was interviewed on CBS in 2009, and the above video is from the CBS youtube channel.
What is the immune system?  What are the cells in the immune system and what is their function in our health? How do we strengthen our immune system?  Written in easy to understand language and embellished with cartoons, Ruebush answers these questions with 5 rules to follow for allowing germs to strengthen our health.  She also suggests that the increasing prevalence of allergies and asthma among babies and children may be reduced with an understanding of how to strengthen the immune system through proper exposure to allergens and germs.  Her explanations of the development of the immune system of a baby are the reason this book is a "must read."  Her concept of "immunological exercise" emphasizes exposing babies or children to germs that builds cells which fight off disease. Ruebush explains, "White blood cells multiply in response to a challenge:  Each exposure to a germ gives your immune system more memory cells, which means you can respond faster and more aggressively the next time that particular germ tries to attack."
Immunity begins in infancy.  Read Ruebush's book and Dr. Henry Bieler's Food is Your Best Medicine to get baby off to a very healthy start!
Why Dirt is Good:  5 Ways to Make Germs Your Friends:  by Mary Ruebush, PhD.  (New York:  Kaplan Publishing, 2009).