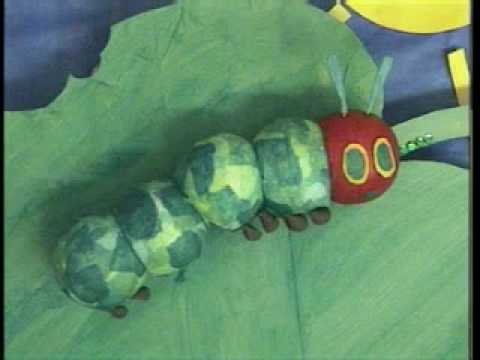 COUNTING BOOKS
When developing baby's first library please include a few counting books.  One of Stellar Caterpillar's favorites, of course, is Eric Carle's "The Very Hungry Caterpillar."  We love all things caterpillar because it is a symbol of both articulated movement and transformational growth.  In Carle's book the caterpillar of the story has a big appetite prior to going inside his cocoon and eventually breaking free as  beautiful butterfly.  Several pages in the book are designed to help baby learn to count.  They are cleverly shortened and each item of food has a hold punched in it to assist in counting.  This uses baby's sense of touch to learn counting.  As you model the touch by taking your index finger and poking each of the holes as you say "1, 2, 3," she will soon learn to touch the holes in the same way.  The variation in page width engages baby's curiosity and one of the reasons young infants love this baby book.
BABY DIET
The story is about the caterpillar's appetite.  The reader counts the foods, both healthy and unhealthy, that he eats.  There is a subtle message about baby health and how eating green foods make you feel better as the caterpillar recovers from a binge on pie, cake and other sweets by eating a nice big green leaf.  Another subtle diet message is about the need to eat in order to grow.  The caterpillar's appetite turns ravenous prior to the creation of his cocoon.  This is useful as baby enters the toddler years and embraces her strong will at the dinner table with forceful expressions of "No."
BABY SIGHT
"The Very Hungry Caterpillar" is also a very colorful book.  The prominent colors are bright colors that baby sees easily:  red, green, yellow, and blue.  For the young babies, point out the colors and as you name them, "Red."   Watch the beautifully animated video above from Mandy Banester's youtube channel, and you will see the colors of the story are the bright colors from the natural world around us.  Colors include those of the sun,  plants and beautiful fresh fruits.
BABY WORDS
With every book you read to baby, find two or three words that are simple first words for baby.  Each time you read the book, say those words clearly to her and invite her to repeat them.  A few easy words in the caterpillar story are egg, sun, leaf, and apple.  This is the beginning of speech development for baby.  With repetition, she will enjoy saying the words too!