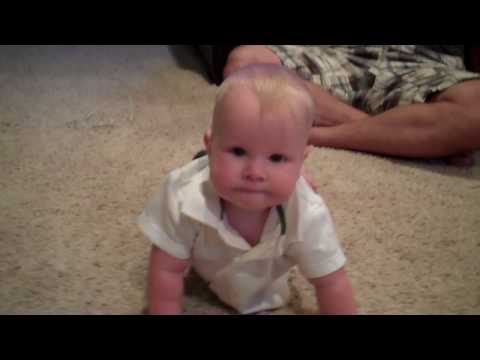 ROCKING ON HANDS AND KNEES
Oscar, at age 6 months, is preparing to crawl on his hands and knees.   Observe how he repeatedly rocks back and forth on his hands and knees in the above video from monkeytoesshoes' youtube channel.  Until now, his hands and knees have not supported much weight in the motor skills of rolling or belly crawling.  This action of rocking strengthens babies' bones in their arms, hands, legs, and knees.  It also stretches the muscles in the hand which is an important development of the hand.  It is very difficult to crawl with closed fists since the weight does not transfer as well onto the hands. Baby is very good at grasping toys with tightly closed fists which tightens up the muscles of the hands.  This action of rocking is also discussed by developmental experts as an important development for holding pencils in school.  After several days of this preparation, Oscar will have his mother chasing him around the house as he crawls to explore the world around him.
MOTOR SKILL DEVELOPMENT AND WEIGHT SHIFT
One of the essential baby milestones that occurs prior to the major milestone of crawling is the ability to shift weight.  In skilled athletes, such as professional dancers, this is an essential skill that separates beginners from the advanced.  If you observe a beginning ballet student in class they have difficulty moving forward in space from one move to the next where the professional connects every move with ease and fluidity.  This skill occurs in the muscles, bones, and nervous system in such a minute way it is difficult to see and understand what is happening.  Often, parents do not understand why this skill of rocking on the hands and knees is such an important preparation for crawling.  Moving forward in space, for both baby and a dancer, requires transferring the support and balance from one part of the body to another.