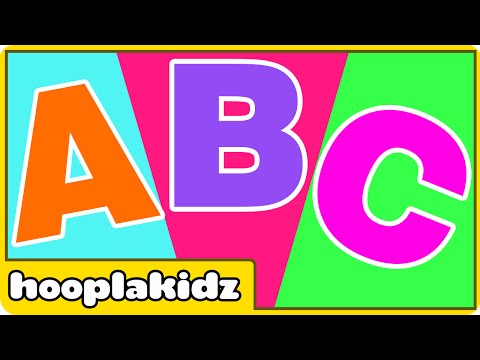 SPEECH DEVELOPMENT
How do babies learn to talk?  Babies learn speech through imitation of the sounds and words they hear from their parents, grandparents, aunts, uncles, neighbors, siblings, and nannies.  First they learn syllables such as "Ma" or "Ba."  Soon they learn the entire word, i.e., "Ball."  First words often include "Ball, Doll, Block, Book, Dog, Cat, " and of course "Mama" and "DaDa."  It will be much easier for them to learn the ABCs later if they know the "ABC Song." Although they usually do not learn their ABCs until they are toddlers, it is great to familiarize them with the rhythm of the tune from early on.    It is also an easy song for a new mom to learn who does not remember or know many baby songs.  If you know your ABCs you can quickly learn the tune and sing it to baby.  Practice the song in the above video from Hooplakidz youtube channel.
WORDS TO THE ABC SONG
A-B-C-D-E-F-G
H-I-J-K-L-M-N-O-P
Q-R-S
T-U-V
W-X-Y AND Z
Now I know my  ABCs,
Next time won't you sing with me?
LEARNING THROUGH BABY SONGS
Remember that babies are very curious about how you make those mysterious sounds that come out of your mouth.  They want to know how to do it and they want to try it.  They want to learn to sing and speak as you do.  If you move your face close to baby's face as you sing (about 8 inches away), she can watch your mouth move and make the shapes of the sounds and words.  Sometimes baby will try and imitate you, even at a very young age.  It helps if you exaggerate the words so they can watch your mouth change shapes.  Try practicing this in front of a mirror.  If you are a shy and soft spoken person this will feel silly, but your baby will enjoy this game.  Sometimes baby will reach her hands up to your mouth and try and reach inside to find out "What is going on in there?"  Allow her to touch your moving lips as you sing.  She will learn a lot from this exploration.  Choose a favorite song to sing often and baby will become familiar with the rhythm and sounds of the words.
TIPS FOR SINGING SONGS TO BABIES
Exaggerate the words

Practice Singing in Front of a Mirror

Choose to Sing Favorite Song Frequently

Allow Baby to Touch Your Mouth as You Sing