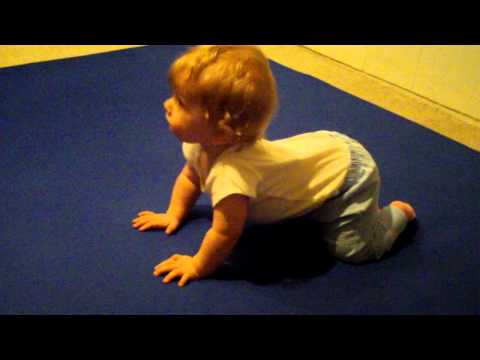 BABY CRAWLING VIDEO
For baby it is quite a feat of strength and alignment to achieve the hands and knees crawling position.  For 7 month old Madison that achievement happened today!  We have watched Madison learn to kick her legs, lift her head in tummy time, and belly crawl.  Each of these Stellar Caterpillar Top 10 Movement Skills have strengthened the muscles of her back, legs, neck, and arms.  After strengthening these major muscles groups, she has learned to lift her pelvis high up into the air so she can pull her knees underneath her hip joints.
ALIGNMENT OF HIPS AND KNEES IN BABY CRAWLING
In her lesson today, we showed Madison how to put her knees more directly under her hip joints so that she would feel more stable.  At the beginning of the lesson she could lift her pelvis up a bit and then pull her knees up, but they were too far to the outside of her hip joints.  She would fall back down to her belly!   Crawling with the knees wider than the hips is not a stable position.  We showed her how to place her knees in alignment under her hip joints so she could feel stable enough to continue moving.  By the end of the lesson she had figured out how to stay on her hands and knees and crawl just a little bit forward.
It is not only strength in the arms and legs that is necessary to achieve the hands and knees crawling position, but the optimal alignment of the knees under the hip joints and the connection of the heels of her palms into the floor to best support her weight.  Only when baby feels stable in the hands and knees position will she feel confident to move one arm or knee forward.  After all, three points on the floor is less stable than four.  When one point is in motion the others must provide stability.