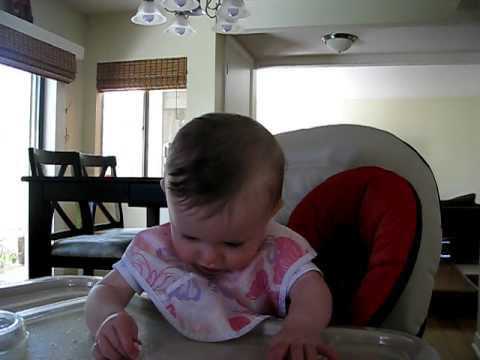 HOW TO TEACH BABY MOTOR BOATING
Motor boating, also known as blowing raspberries, is a very playful and developmental activity for babies.  The funny sound intrigues their curiosity and they are inclined to try and imitate you.  Motor boating gives a strong sensation to their lips, enhancing  awareness and facilitating speech development.  For speech development, babies benefit from activities which increase their ability to move their lips and tongue.  You can help baby learn to create this sound by repeating it a few times with your face close enough to baby's so she can clearly see how you are moving your lips to make the sound.  Do not be surprised if she wants to reach out and touch your lips as you make that sound.  Let her feel what you are doing.  You can also make the sound on the back of her hand to give her yet another sensation of the sound and movement.
Watch the baby in the above video from Jen McBrayer's youtube channel.  She makes a very clear motor boating sound and confidently can repeat it over and over again  This shows that she has developed the skill very well.  In our Stellar Caterpillar classes we guide babies through motor skill development so they develop their skills in such a way that they can repeat them confidently and whenever they desire.  This is different from a skill that happens occasionally or is just half-way developed.  As your baby begins to make the motor boating sound, repeat it back to her.  This is called mirroring.  As you mirror what she does it helps her to be clearer herself about what she is doing.  Babies learn this skill at various ages.  Some babies learn to motor boat quite young and others learn it a bit older.  What is common is that they really enjoy it once they learn it!
The mother in the above video is also demonstrating a method of feeding baby so she does not throw food on the floor.  She puts just enough in front of her for one bite.  After she eats that bite her mother puts another bite in front of her.  They continue this pattern of eating until baby is finished eating.  Baby continues entertaining herself by motor boating in between bites.