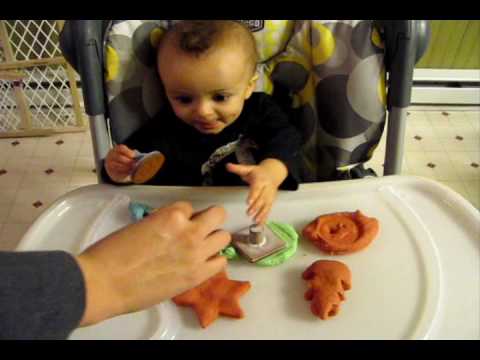 PLAY DOUGH AND FINE MOTOR SKILL DEVELOPMENT
One of the favorite games for babies is play dough.  In honor of National Play Doh Day on September 16, this post will look at the benefits of play dough for fine motor skill development.  Observe the baby in the above video from Jordan Lee's you tube channel.  One of the easiest activities for a baby to do with the dough is to press his fingers into it.  This develops strength in the fingers and awareness of the changing depth of the dough.  Eventually you can teach baby to pull small pieces off of a larger piece of dough, developing finger dexterity.  Learning to press a cookie cutter or a stamp into the dough also teaches coordination and develops strength.  Babies also learn colors from playing with play dough.  Even the play dough containers can be instructional tools if you teach baby to put the dough in and take the dough out of the containers.  Play Doh commercial brand is sold in small canisters. For homemade play dough see if you can purchase some interestingly shaped and/or colored small containers for each color of dough.
INTRODUCE PLAY DOUGH TO BABY
Babies play with play dough usually after the age of one year old.  At this age they are rapidly developing their fine motor skills.  They also use their fine motor skills for picking up food when they are eating.  I recommend keeping the play dough off of the high chair tray.  That is a place for food and therefore the things placed here and picked up or squished with fingers usually go into the mouth.  Try playing with the play dough on a small table about the height of a coffee table.  Baby can stand and play with it or it can be placed on one of the small tables that comes with chairs for toddlers.  Show them with your fingers how to press into a small ball of dough and then let them explore the texture.  Keep your eyes on baby so he does not put a piece in his mouth!
PLAY DOUGH RECIPES
There are an abundance of homemade play dough recipes available on the internet.  It is worthwhile to find one and make it for your baby.  The homemade version is made from simple edible ingredients such as flour and salt and should pose no problems if baby put the play dough in his mouth when you are not looking.  Simply google "best homemade play dough recipe" or search youtube if you prefer to watch someone make the recipe.  You can even find gluten free play dough recipes if you have a baby allergic to gluten.