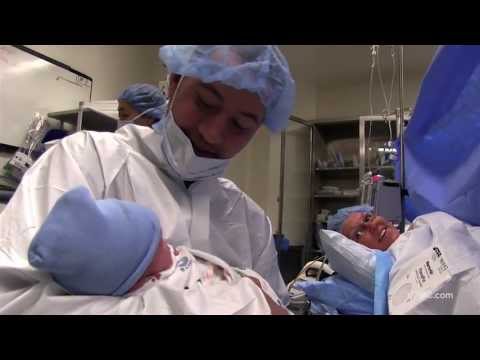 singing is AN ACTIVITY FOR A NEWBORN BABY
At the University of Pittsburg Medical Center (UPMC) in Pittsburg, Pennsylvania, babies receive a very warm entry into the world.  Dr. Carey Andrew-Jaja, MD, FACOG, welcomes babies into the world through song as he delivers them.  "Happy Birthday to you!" rings through the delivery room lead by Dr. Carey-Andrew's powerful baritone voice, communicating much warmth and security to the newborn baby.  The above video from UPMC's youtube channel shows him in action.  Although the baby is not able to sing yet, the singing engages his attention and he feels what is communicated through the voice.  Singing is a wonderful way to engage with your newborn baby.
Dr. Carey-Andrew's practice of singing to the newborn baby immediately following birth in the delivery room and during his visits to mother and baby in the hospital room were inspired by a colleague.  An older OB-GYN on staff at UPMC had a habit of singing to the babies and one day as he was nearing retirement he asked Dr. Carey-Andrew if he sang to the babies.  He said, "They love it!"  That was the moment the baton was passed to him to sing to the babies he delivers.  And he has delivered thousands of babies, welcoming each one into the world through song.
Dr. Carey states that he thinks "I am singing to a future important person" and "it is a beautiful world we live in."  He describes this as a moment where he forgets about all of the tragedies in the world around us and focus on the beautiful moment occurring in his presence.  Maybe singing lessons can be added to the roster of OB-GYN courses required in medical school?